Today was not the first time I have been to Brasserie, but it was the first time I have ever been for brunch. My son was with me for Father's Day, and he had never tried Brasserie, so off we went.

Brasserie has a wonderful outdoor patio looking over a pond when the weather is nice, but it was muggy since a tropical storm was on its way, so we opted to sit inside. Inside the decor is dark wood on the walls with an older style tin tile ceiling. Inside is always a bit loud, although Sunday afternoon is not as loud as a Friday or Saturday night.

Since I was with my son, no had no alcohol, but Brassiere does have a full service bar with good cocktails, along with a good wine list and sufficient beer list to satisfy your average beer drinker.

As usual with my son, we got shellfish for an appetizer (in this case, mussels). Brassiere has three different sauces that they steam the mussels with: mariniere, diable, and saffron. I believe all 3 sauces have the same base of white wine, butter, and minced shallots, but the mariniére has tomatoes, the saffron has, well, saffron of course, and the diable has some hot spice to it. I like them all, but the saffron is my favorite, which was our choice. Once the mussels are gone, dip the french bread in the remaining sauce; its marvelous. Brassiere French bread is excellent and comes with real butter, but the bonus of dipping in the left over mussel sauce: priceless.

My son had the eggs Benedict of they day which was over Canadian bacon and Gruyere cheese. I had their sauteed flounder over quinoa salad. The eggs Benedict was rich and yummy; just as you would expect. They come over a monster piece of French bread. The flounder was cooked properly, had a nice thin crust, but was just a little bland for my taste. Granted, following the saffron broth is a tough challenge, but I would like the flounder better with more spices.
One of the always fun treats at Brassiere is the desserts. Yes, they have a couple of American portioned giant desserts that have 1500 calories, but their special touch is the little dessert parfaits. Each parfait is bigger than a shot glass, but not as large as a whiskey glass. They are served with little spoons, and so you can order several, split them among the group, and everyone gets to try a few bites of goodness without stuffing yourself.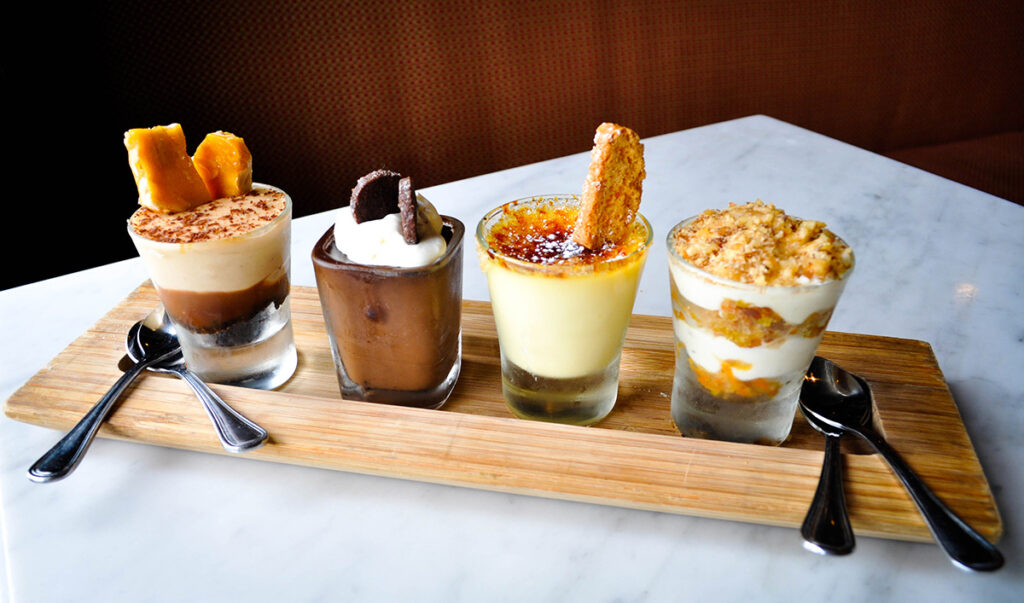 We opted to try creme brulee, dark chocolate mousse, carrot cake, and cheesecake with berries. The chocolate is VERY chocolate and will appeal to chocolate lovers, but was too rich for me. The others were excellent.
NOTE: We got excited about the parfaits and I forgot to take a photo, so this photo is from their website.  It shows (left to right) dark chocolate mousse, pots de creme, creme brulee, and carrot cake.
Brassiere is always a good experience, and if you can sit outside on the patio, even better.