Tennessee is known for several types of cuisine, catfish being one of them. The Ridge popped up on a search for catfish restaurants near me in Nashville, so we gave it a try.
The previous day, we had tried Martins BBQ Joint for bbq and catfish, and had been disappointed: https://www.martinsbbqjoint.com/belmont-nashville . It was close to the airport, we were starving after landing, and we made a mistake. You can check out my review of Martins HERE.
The Ridge not only made up for the previous day's disappointment, we actually came back to The Ridge a second time while in Nashville. Many good restaurants are known for something specific, and they do really well at it. The Ridge was one of those rare places that is good at everything.
We tried their catfish platter and their 3 meat bbq platter. The catfish was OUTSTANDING. Let me say that again … OUTSTANDING. Catfish is plentiful in Tennessee, but cooking awesome catfish takes skill. It begins with fresh catfish that has been filleted properly. I didn't confirm with the Ridge, but I assume they filet like my friend Diron:
One of my friends from northern Louisiana has been fishing for catfish in the Mississippi River for decades. When he fillets catfish, he removes not only the bones, but the darker fat that mixes in with the meat. He explained that while fat on beef, pork, chicken is great for flavor, the fat on the catfish goes rancid very quickly and is responsible for that "fishy" taste that much catfish has. He says it takes a longer to surgically remove the dark tissue, and so most people don't do it. I have never watched him, but I have tasted the result, and his catfish, even after being frozen, tastes amazing every single time.
On top of the filleted catfish, you need two things: 1) a great batter, and 2) oil at the proper temperature. The Ridge's batter was awesome. It had a cornmeal base; not sure if it was white or yellow corn, and then it had pepper and salt mixed in. I believe it possibly had lemon pepper; it was subtle so I wasn't sure, but it had enough pepper to give it a light kick. The light cornmeal batter seals in the flavor and keeps the fish from drying out, and the spicing brings out the catfish flavor.
The oil was definitely the right temperature based on the hush puppies. Hush puppies are little balls of cornbread flash cooked in oil. If the oil is not hot enough, then it seeps into the hush puppies (and anything else) and makes them soggy. Far too many restaurants serve soggy hushpuppies. Oil at the proper temperature sears the outside crispy quickly enough to prevent oil intrusion. Some places start out with hot oil, but then use during busy times drops the temperature too much for later batches. The Ridge nailed it with crispy outside, yummy inside catfish, hushpuppies, and french fries.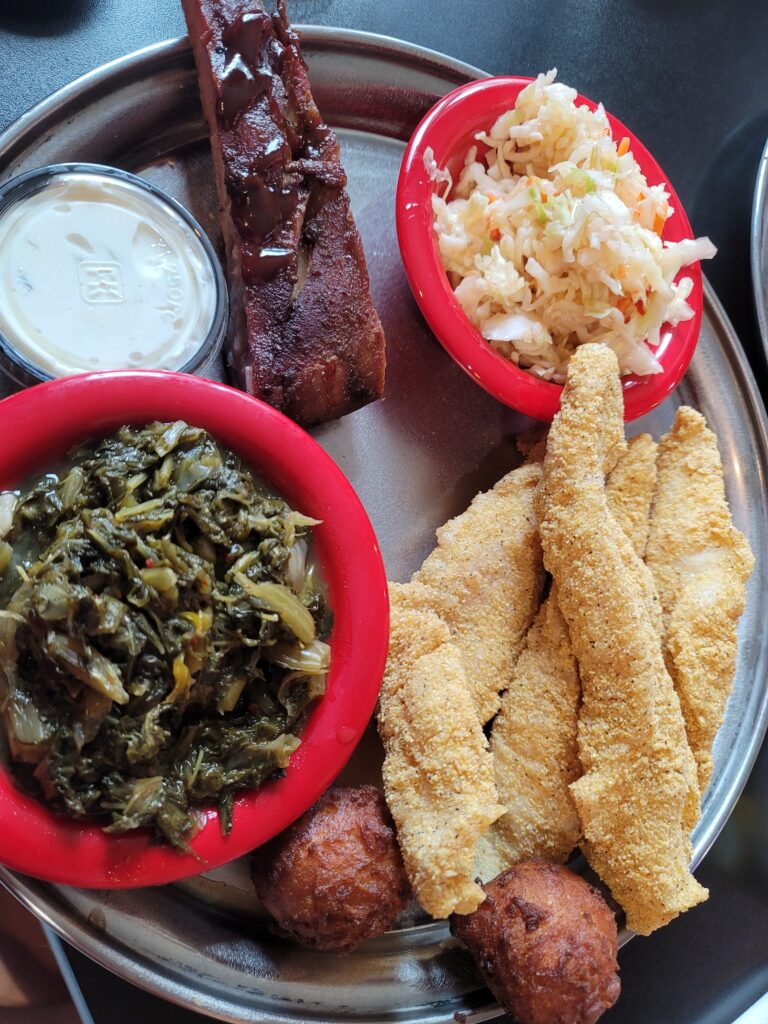 Not to be outdone, The Ridge's BBQ was also excellent. We tried pulled pork, ribs, and 1/2 dark smoked chicken. The chicken fell off the bone, and had a good smoked flavor. The pulled pork and ribs were similar; very tender meat and full flavor, even without the sauce. And THAT is the best sign of a good BBQ place. Its easy to make a yummy sauce that tastes good, but properly smoked meat should be full flavored without the sauce. Far too many BBQ places have bland meat that needs the sauce to add flavor. Great BBQ like The Ridge comes out smoked full of flavor, and then you can choose to add sauce depending on your mood.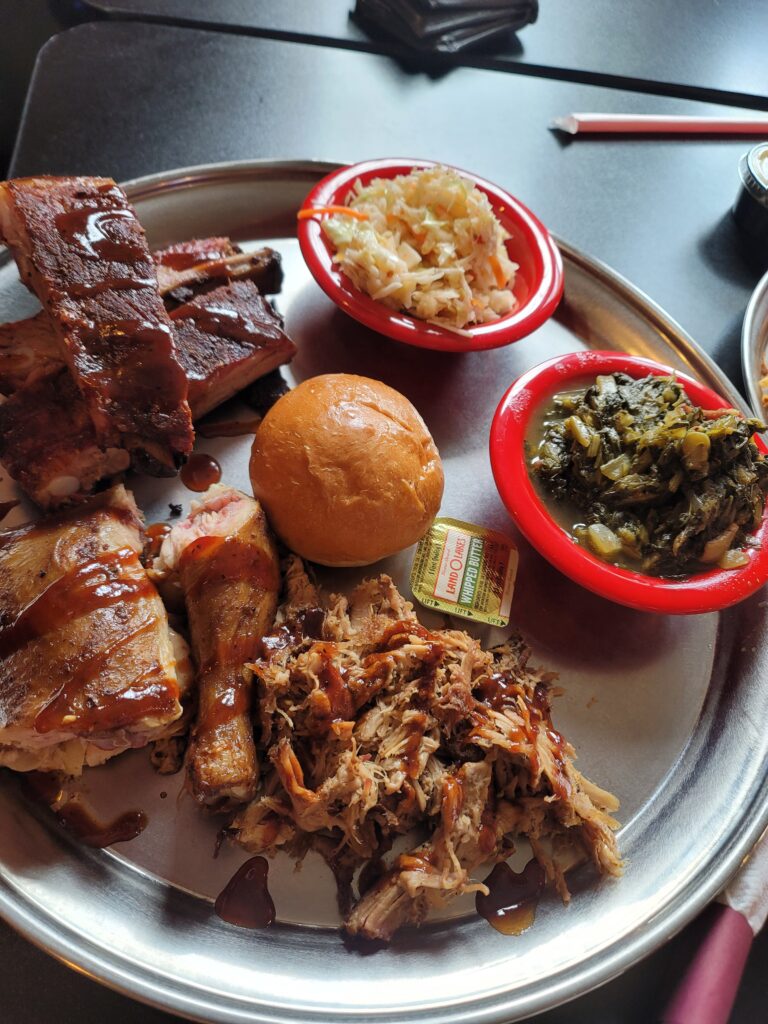 The Ridge did not forget about the side dishes either. Their turnip greens were chopped, cooked fresh (so not too bitter) and obviously cooked with pork fat and spiced lightly. I could have made a meal out of the turnip greens. They had two types of cole slaw: sweet and spicy, which I loved. I prefer vinegar/spicy slaw, and most places have one or the other. This had both to serve both palettes. Their french fries and tater tots were yummy without needed ketchup, green beans were as good as the turnip greens, and even the roll (which many places buy from Sam's Club and throw on the meal as an after thought) was excellent
Finally, since The Ridge was on a roll, we decided to try dessert: coca cola cake and chess pie. The Coca Cola cake struck that perfect balance between rich and sweet, and was very moist like a proper cake should be. The chess pie, by design, is super rich, but small in size so you don't get overwhelmed.
Service was great. They do have a bar upstairs; I was with my 17 year old so we didn't try the bar.
As I said, we liked the place so much we came back again during our week visit in Nashville. If you find yourselves in Nashville, please eat here and support a phenomenal local business.
The Ridge
https://theridgenashville.com/