My son appreciates good steak as much as I do. We ended up staying in downtown Nashville, TN for July 4th, where Nashville claimed it had the largest fireworks show in the country. Since the hotel was near the streets blocked off for the crowds, we forego driving to a restaurant and opted for one that was within walking distance. One block away was Morton's Steakhouse. I have been to Morton's many times, but not in at least 10 years, and my son had never been, so we found a reservation and decided to "steak it up".
The atmosphere is just as I remembered, dark with an upscale, elegant feel. At first my son was salivating over the appetizer called "bacon steak". He was picturing a small piece of steak wrapped in bacon. I laughed, as with him, steak for appetizer and steak for entree wouldn't surprise me. However, I suspected the description meant something different, so upon asking the waitress, it was a thicker piece of pork belly that you could slice like steak. We opted to forgo the appetizer.
I had a classic chopped salad as a first course. This is a true chopped salad, with the lettuce cut up and tossed with the other vegetables and dressing PRIOR to arriving at the table. This is how I serve salads at home, and frankly, all salads should be served like this. The dressing gets disbursed evenly across all the contents and the food items are chopped by a super sharp kitchen knife instead of trying to fight with a standard knife in a bowl or delicate plate on the dining table. Great salad.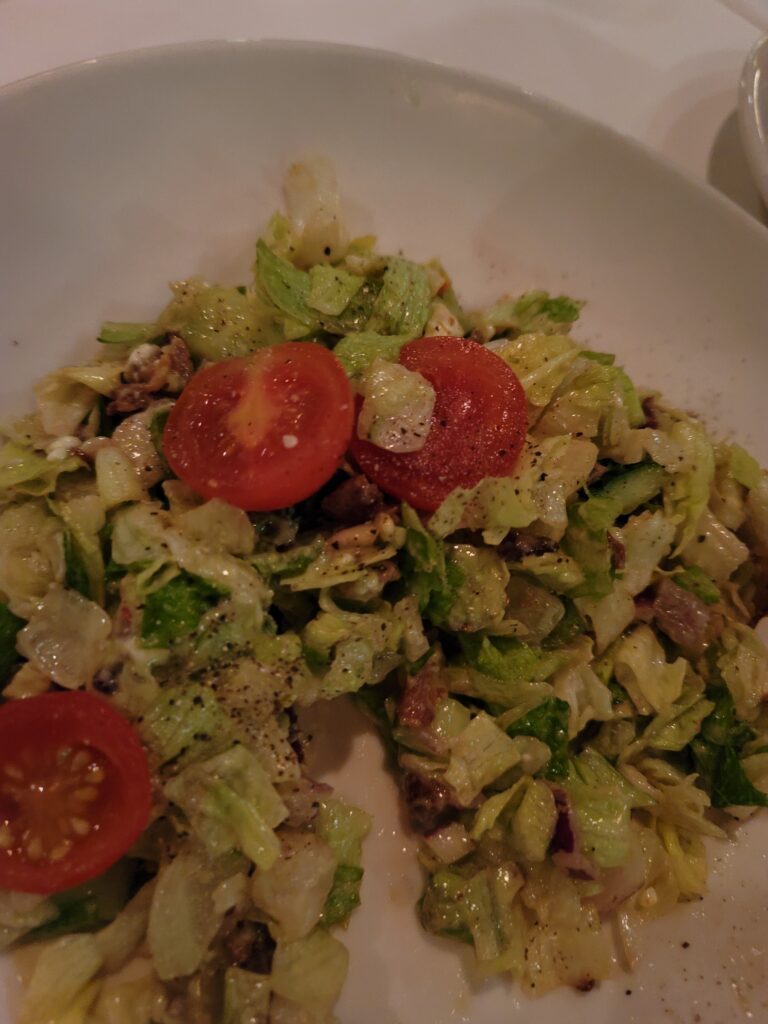 They also served a bread boule. Boule's are fairly common, but Morton's got it right. The interior was as light and airy as a cloud, and the outside was a crisp crust that was stiff enough it was easy to cut through. The whipped butter finished it perfectly.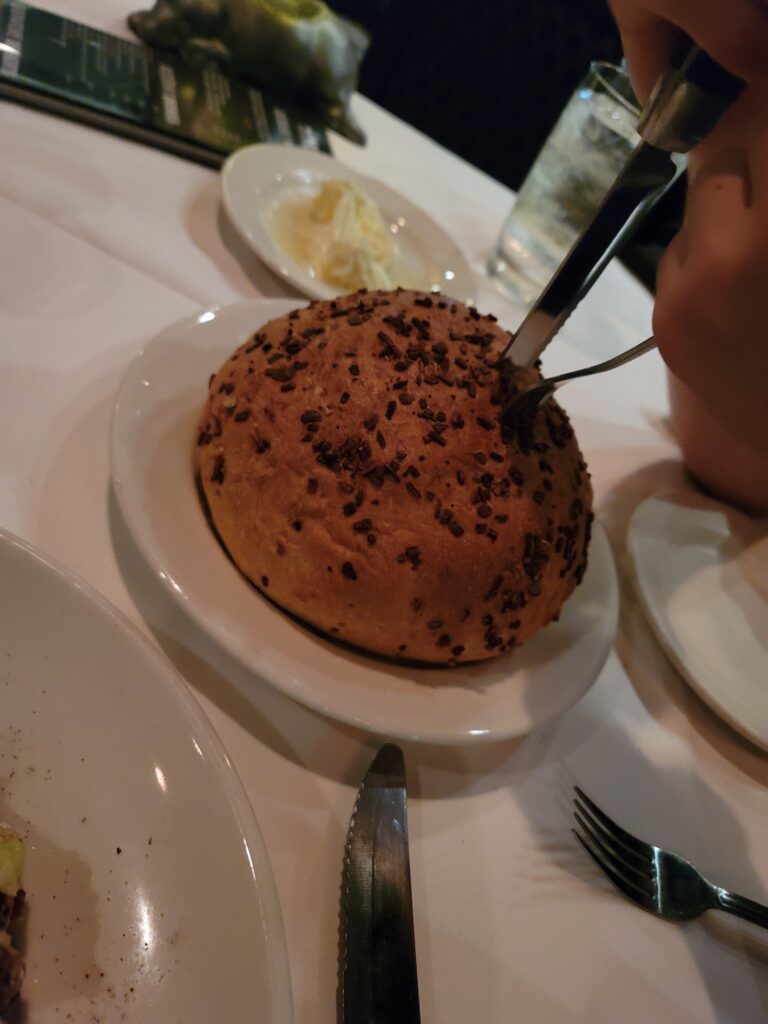 My son tried their 16 oz cajun ribeye. The cajun ribeye is marinated for 24 hours prior to cooking. Ribeyes are full flavor steaks to start with, but put some cajun spicing in the mix, and the flavor jumps off the plate straight into your taste buds. Now, this wasn't a "hot" cajun, so don't think it was like eating some habanero wings that light you up. It has a strong cajun flavor which complimented the meat very well, but on the "hot" scale, I would call it mild. Definitely worth trying, and made for an excellent steak with an unusual variation on flavor.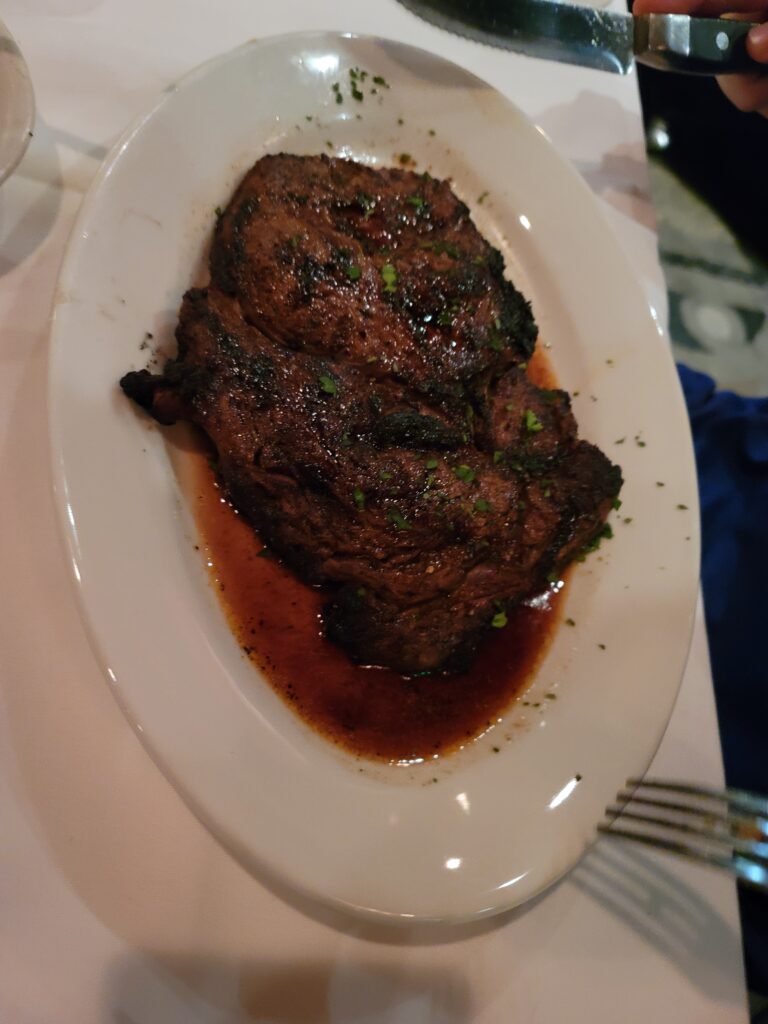 I had their 7oz wagyu filet mignon: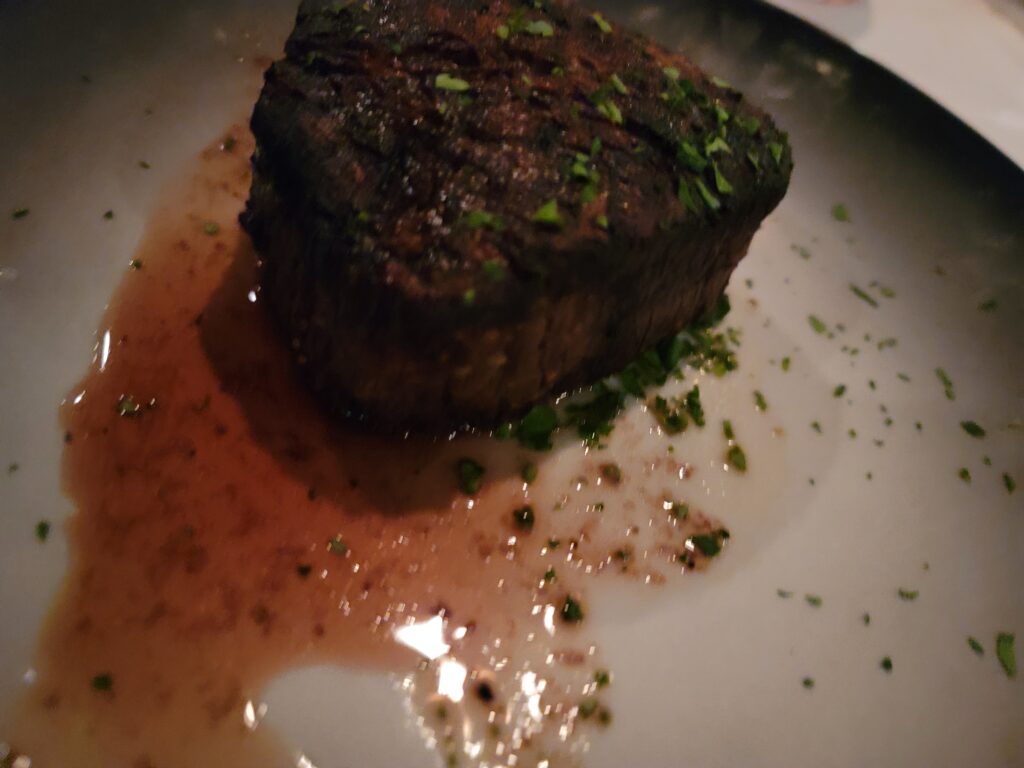 Wagyu is a Japanese beef cattle breed – derived from native Asian cattle. 'WAGYU' refers to all Japanese beef cattle, where 'Wa' means Japanese and 'gyu' means cow.

Wagyu were originally draft animals used in agriculture, and were selected for their physical endurance. This selection favored animals with more intra-muscular fat cells – 'marbling' – which provided a readily available energy source. Wagyu is a horned breed and the cattle are either black or red in color.

The unique taste and tenderness of highly marbled Wagyu beef makes for an unrivalled eating experience. That is why Wagyu beef is finding its way into the repertoires of Gourmet cooks and fine restaurants across the US.

https://wagyu.org/breed-info/what-is-wagyu
If you haven't tried wagyu, I highly recommend it. That concept of "melt in your mouth" steak comes closest to reality with wagyu beef (including kobe). It is very expensive, but when you indulge on special occasions, you will likely agree its worth it.
I opted for none of the great toppings over my wagyu filet; just straight meat cooked medium rare. My son and I traded some bites to figure out which steak was better. We agreed (as expected) that the wagyu tenderness won, but flavor wise, both were awesome delectable tasty divine …. how about "damn good"?
For sides, we opted for brussel sprouts and lobster mac n cheese. The brussel sprouts had an excellent flavor with bacon mixed in, but could have been cooked a little longer. The lobster mac n cheese was ridiculously rich; I let my son eat most of it.
I also had a South Street Manhatten for the first time, which apparently comes with a piece of steak on the stir rod? Who knew?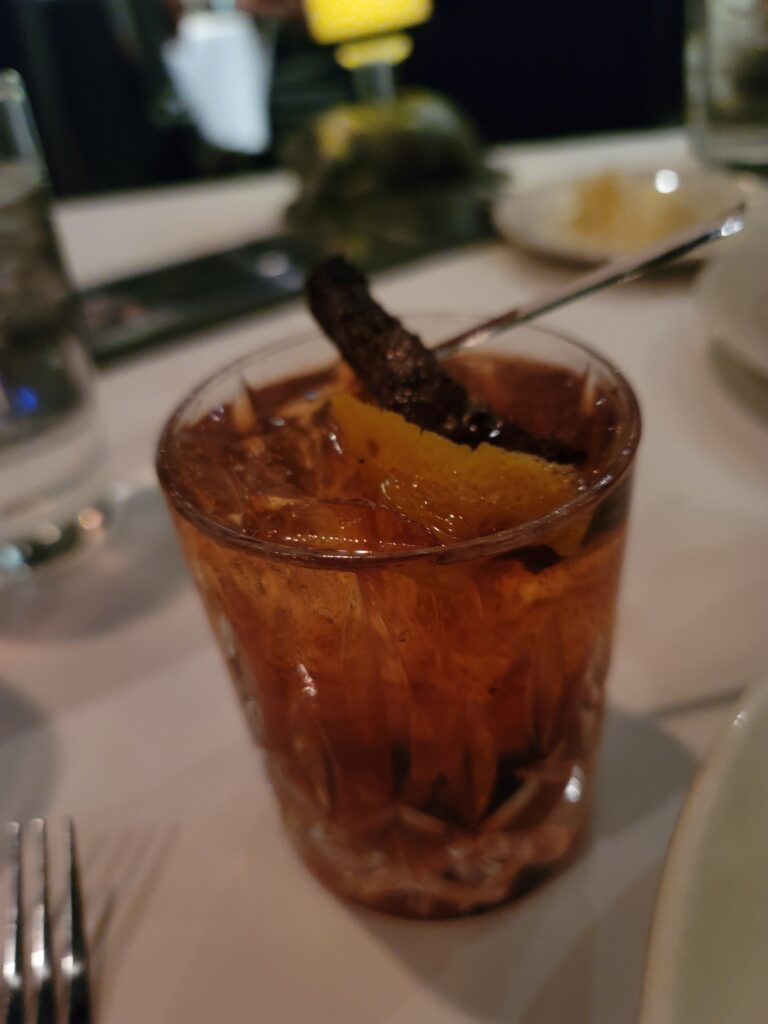 I prefer a manhattan over an old fashioned because instead of adding sugar direct, the sweet vermouth tones down the sweetness and let's the full flavor of the whiskey/bourbon out. Here is a classic manhattan recipe:
2 parts whiskey
1 part sweet vermouth
1 to 2 dashes bitters, such as Angostura
Orange peel
Real Maraschino Cherries
Most of you know that I go out of my way to avoid chains and try local restaurants, but there are a few high end chains that are exceptions on occasion. Mortons Steakhouse is one of them. Next time you are in a city that has a Morton's and you want to celebrate a special occasion, give it a try. You won't be disappointed.